History
In 1962, ten families in Northeast Philadelphia met to discuss the need for a synagogue to service the new and growing Jewish population in the Bustleton and Somerton areas. This congregation was given the name the Greater Northeast Jewish Congregation. As they discussed the founding of their own shul, they realized they would need more than a synagogue...they needed a true Jewish Community Center.
On August 15, 1962, the now 21 families of the congregation purchased a two-and-a-half acre "hill of rocks" on Verree Road for $35,000. The Greater Northeast Jewish Congregation began functioning immediately. Religious services began in the auditorium of the Bethesda Presbyterian Church under the religious leadership of Dr. Nathan Landau.
On September 28, 1962, the Greater Northeast Jewish Congregation had grown to an amazing 125 families. Three hundred people celebrated GNJC's first High Holiday services in the auditorium of Bethesda Presbyterian Church.
Rabbi Arnold H. Feldman became the first spiritual leader of GNJC in February of 1963. He assumed leadership of a fledgling, yet unbuilt synagogue and became a driving force in the growth and expansion of our synagogue center.
Our dream materialized in September 1963, when we held High Holiday services in our own sanctuary for the first time.
In 1966, we were honored to learn that the trustees of the original Congregation Shaare Shamayim from South Philadelphia elected to bring both their community and history to GNJC. The original Congregation Shaare Shamayim had been in existence for sixty years. The literal translation of Shaare Shamayim is "Gates of Heaven." On September 30, 1967, our congregation officially became Congregation Shaare Shamayim GNJC, a name rich in meaning and history.
By the mid-1960s, membership was still growing rapidly and it became evident that expansion was necessary. The auditorium and social hall was one large room which also functioned as our Sanctuary with beautiful stained glass windows framing the bima. The sanctuary could accomodate approximately 600, which had been adequate in the first few years, but would soon be insufficient. The leadership proposed building an additional Sanctuary and a Youth Complex.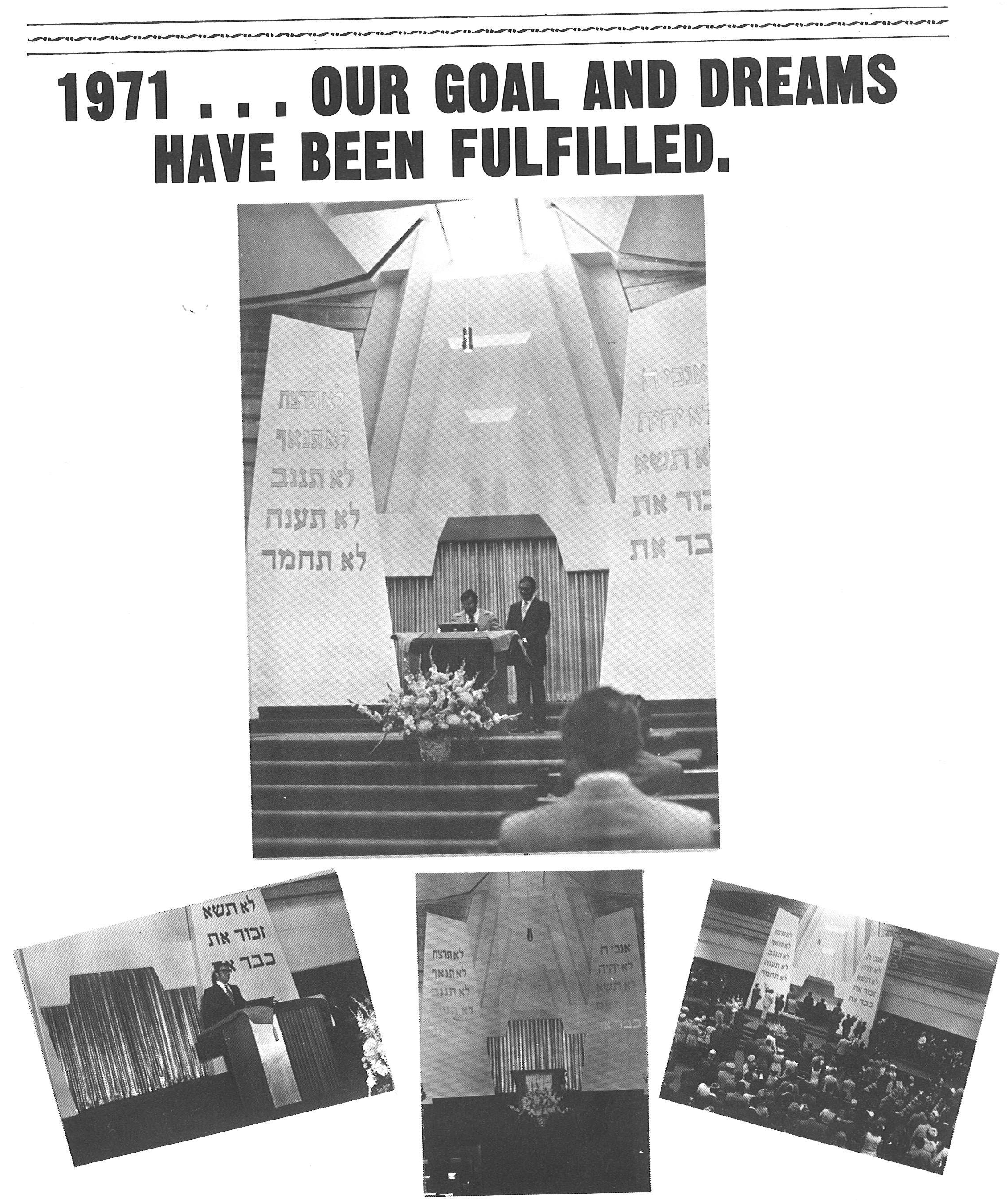 Purchasing an additional one-and-a-half acre lot and house adjacent to the original building, construction and fund-raising began immediately, but it wasn't until 1971 that the magnificent Complex was completed and dedicated.
In 1989, we were happy to welcome Congregation Beth Judah to our synagogue community and over the next two decades we also welcomed Congregation Shaare Yitzhak, Beth Tefilath Israel, Rodeph Zedek, Congregation Beth Chaim, and Congregation Beth Emeth. With each addition, our community has grown and flourished. In early 2017, we welcomed the Congregations of Ner Zedek. Congregations of Ner Zedek also brought the former congregations of Adath Zion, Beth Uziel, Boulevard Park, Brith Kodesh, Ezrath Israel, and Fox Chase JCC.
To be assured of never forgetting our long history, we changed our name once more to the Congregations of Shaare Shamayim, a place that accepts all comers to our vital community.
Our rabbis, cantors, and lay leaders continue to place a strong emphasis on Jewish education since the synagogue's founding. We are particularly proud of our religious school graduates, many of whom have gone on to Gratz College and become today's Jewish leaders across the country. Shaare Shamayim continues to be a community leader and a center for activities such as Israel advocacy, blood drives, musical shows, political forums, family education, and cultural exploration.
Fri, September 29 2023
14 Tishrei 5784
Upcoming This Week / Services
Upcoming this week in
September
Fri
Sep
29
Erev Sukkot
6:45pm
Mincha/Maariv
Traditional minyan
7:45pm
Maariv
Egalitarian
Sat
Sep
30
Sukkot
9:00am
Shacharit
Traditional
9:30am
Shacharit
Egalitarian
Sun
Oct
1
Sukkot
9:00am
Shacharit
Traditional
Mon
Oct
2
Chol Hamoed Sukkot
Tue
Oct
3
Chol Hamoed Sukkot
Wed
Oct
4
Chol Hamoed Sukkot
Today's Calendar
Candle Lighting

: 6:28pm
Mincha/Maariv

: 6:45pm
Maariv

: 7:45pm
---
Friday Night
Candle Lighting

: 6:28pm
Mincha/Maariv

: 6:45pm
Maariv

: 7:45pm
Shabbat Day
Shacharit

: 9:00am
Shacharit

: 9:30am
Mincha

: 6:45pm
Candle Lighting

: 7:27pm
Candle Lighting
Erev Sukkot
View Calendar
Fri, September 29 2023 14 Tishrei 5784